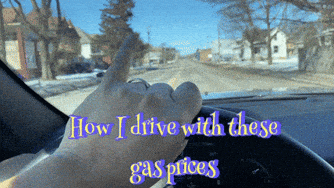 By this time, we've all seen the higher prices. Gas is more expensive. Lumber prices have just about doubled.
This got me thinking: Inflation really hasn't been an issue for over a decade. In fact, from 2009-2020 the Consumer Price Index, which is how the government measures inflation, has averaged a measly 1.6% annually.
Many experts feel that this is changing. In fact, they think it could change in a big way THIS YEAR!
Two kinds of inflation
Here's a quick reminder of two different kinds of inflation:
Cost-push inflation is when the price of supplying something gets more expensive.
An example of this is back in the 1970s when the oil cartel OPEC decided to raise the prices of oil on the rest of the world.
I still remember my dad leaving for work extra early to get in line at the gas station. The lines were around the block and only certain cars would have the "privilege" of paying exorbitant prices to get gas that day. It depended on if your license plate ended with an odd or an even number.
Demand-pull inflation is when demand for a product increases faster than the supply chain can produce it.
We all experienced this recently with surging toilet paper prices and shortages.
A one-two inflation punch
We could be in for a double whammy with inflation prices. Right now, we have supply chain shortages (cost-push) from, amongst other things, a lack of shipping containers(?) which is causing shipping delays from things bought overseas.
Combine that with the trillions of dollars that are flooding the economy (demand-pull) from Coronavirus relief packages, infrastructure spending, and record-breaking budgets and many experts think we could be in for a BIG and SUDDEN jolt of inflation later this year.
What does this mean for us tile setters?
For starters, watch your household bills. Inflation is like a tax: it makes things more expensive. If you're spending more money on gas and food can your still afford that new truck you've been dreaming about? Has your credit card balance been sneaking higher?
Secondly, think about buying in bulk. If you can buy your board and mortar at today's prices you won't have to pay tomorrow's more expensive costs. Additionally, you make sure that you have what you need when you need it.
Thirdly, make sure your pricing is increasing to keep pace with inflation. One of the perks of being your own boss is you can give yourself a cost-of-living raise. Employees can't.
Finally, construction business guru Michael Stone advises us to watch our contracts. Don't lock yourself in so you're the one paying the higher material costs. He's got a couple of suggestions on how to combat this here.
Bottom line
Once you think you've figured out contracting, it has a way of evolving just so it can punch you in the face once again.
Don't get caught by surprise. Make money in every environment
Bonus: This article from Business Insider has some great photos of the 1970s oil crisis