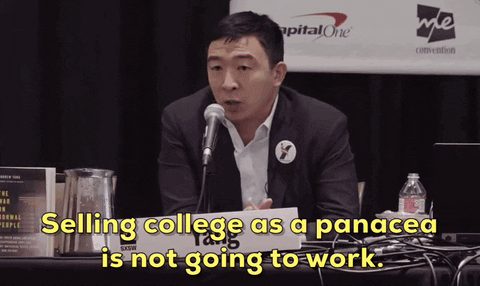 As tradespeople, some of us made the choice not to pursue higher education. Others of us, for one reason or another, may not have even had the opportunity.
And yet, here we are, with the President and Congress considering bailing out those that pursued higher education.
The Most Expensive Piece of Art
The issue of college debt has been growing in the subconscious of America and has come to a head with our new President who favors at least some degree of a bailout for college students.
Natural Light, the beer company, went as far as to make the world's most expensive piece of art which was a display consisting of 2600 student diplomas in New York's Grand Central Station in an effort to draw attention to this issue.
The "most expensive" claim is due to the high cost to obtain each diploma. Clearly, this is a topic that is front and center with their customers which, largely, are college students.
We get it. Higher education is expensive. Too expensive, in fact. However, nothing is going to change as long as we keep preaching that there is no other option but to pursue higher education.
It has to be OK to not go to college after high school. The trade school vs college debate is starting to turn.
We need a cultural shift
Bailing out university kids is hard to stomach for those of us in the trades because nobody was forced to go to college. It was a choice. A choice to incur a lot of debt with the thinking that it would pay for itself down the road.
It's been too long that we've been preaching that simply getting a degree entitles one to a better occupation. It would appear this was good advice at one time but, now, not so much.
A case can be made that these university students were preyed upon and deceived by the system. But, simply canceling the debt does nothing to fix the problem and only treats the symptom.
How does erasing the consequence of the decision help the next generation of students to make better choices? What does it do to fix the skyrocketing university costs? Nothing changes unless there are changes to the system.
Let's start with this
How about we quit looking down on the trades as viable careers. Let's start by not preaching that higher education is the only option for a well paying job.
It's not right to punish those that didn't go to college or those that chose to attend a community college instead of a costly university. It's also not fair to punish those that have been diligently paying down their student debt.
Furthermore, let's not punish those that didn't have the opportunity to even pursue higher education. In an era where we talk privilege and equality, bailing out those with good opportunities would amount to a big slap in the face to those less fortunate.
Finally, let's keep pushing the trades up. There are a lot of forces that have gathered on our side to catapult the building trades back to respectable careers in the eyes of society.
Just one of these forces is the fact that the trades workers are getting older and young people aren't replacing them.
Now it's just a matter of time and effort before the building trades and manufacturing jobs are widely considered to be a smart alternative to "higher" education and debt-riddled diplomas.
tl;dr to this article, this guy nails the issue in 15 seconds