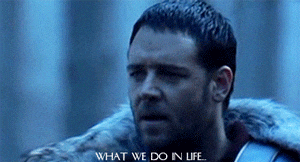 "Ooooohhhh! Aaaahhhhh!" These are the types of reactions that one would expect when an ancient mosaic is unearthed after being hidden for thousands of years.
Typically, we marvel at the attention to detail and are in wonder at the craftsmanship that went into creating such a work of art.
Well, then there's this one.
The 5th Century Roman Mosaic
Archaeologists have recently unearthed this 5th-century mosaic floor at a Roman villa in England.
In doing so, there were two things that stood out to them:
The time period in which it was made
It has errors
The time period is of note because the Roman empire was already well into its decline and they (the Romans) were thought to have left England by this time.
So it's unusual that there would be someone still in England that was Roman and felt good enough about current events that they would be constructing anything. After all, this time period was the beginning of Europe's Dark Ages.
Murphy's (f)Law
The other thing that stood out to the archaeologists was that the mosaic had errors in the pattern which was uncharacteristic.
From the article in The Guardian
"It is of poorer quality than the fourth-century ones found at the villa and others like it. There are several mistakes, suggesting the skills of the craftspeople were being eroded. But it is nevertheless an attractive floor."
Here at The Grinder, we also find this to be a mystery because Home Depot mosaics didn't exist back then.
Bottom line
When the wealthy owner of the Roman Villa asks you to price-match the guy willing to tile for 3 Denarius per foot- don't fall for it.
Be sure to check out another not-so-glamorous look at ancient history where we find that Pythagoras didn't really invent the Pythagorean theorem (you know, the 3-4-5 triangle we use to square up floors).
Although, the Romans were really good at book-matching their slabs.